Transcatheter Treatment of Aortic Coarctation
Your child or you have been diagnosed with coarctation of the Aorta. The aorta is the main vessel that feeds the brain and the rest of the body with oxygenated blood.
This stenosis can cause hypertension and hypertrophy of the left ventricle with possible cardiac dysfunction.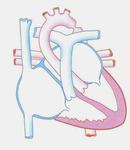 When coarctation of the aorta occurs at the neonatal age and until the first year of life the patient should undergo surgery to remove the narrow part of the vessel.
If stenosis appears after the age of one year and up to the eighth year of life, the patient may also be treated by transcutaneous method (stretching the narrow lumen with a balloon).
After the eighth year of life, in most cases, it is possible that a stent may be implanted in the narrowed lumen of the vessel, which keeps it open for life, hence open heart surgery may be avoided. Before stent implantation in the aortic lumen, you are likely to undergo a cardiac MRI or CT scan to assess the exact dimensions and anatomy of the vessel. Occasionally, especially if a recent diagnostic catheterization has been performed, no further imaging is required before the interventional procedure.
The procedure is performed under general anesthesia.
Cardiac catheterization is usually performed through the patient's groin.
Contrast medium is injected in the aorta and measurements are repeated in order to select the appropriate size stent and balloon to help dilate the stent.
There are several types of stents that can be used, which are usually made of stainless steel or platinum (picture).


Following stent implantation
The patient stays in hospital for 1-2 days. Chest X-ray and ultrasound check-up are performed before discharge.
The only medication that is required is aspirin, which is given for 6 months after the procedure. Follow-up check is arranged with a 2D Echocardiogram and an MRI or CT scan and a chest X-ray 6 months – 1 year after the procedure.
Aortography after stent implantation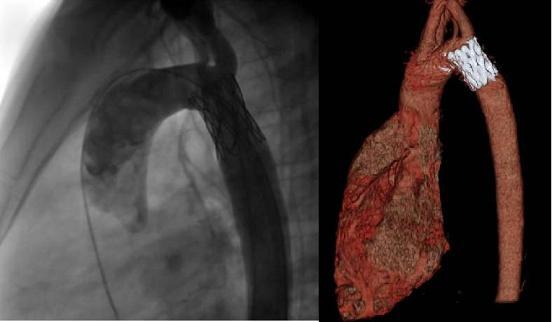 CT scan for assessment of the stent's position and patency 6 months after stent implantation.