Cardiac catheterisation procedures
Interventional Operations
Cardiac catheterisations and transcatheter interventions for Congenital Heart Disease has been routine practice for over 4 decades now. In particular, transcatheter interventions have been performed with success as an alternative method to open heart surgery, where feasible. The interventions are commonly performed via large arteries and veins in the patient's groin or neck. In-hospital stay and patient recovery are short with average hospitalisation of 1-2 days. Interventional cardiac catheterizations are performed by expert staff in highly specialized units and with cardiac surgical back up when required.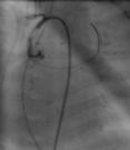 Dr Tzifa is the Director of the Department of Interventional Congenital Cardiology at MITERA-Hygeia Hospitals, where the whole range of interventional procedures for patients with congenital heart disease are performed, as well as innovative or rare interventions in order to avoid open heart surgery (percutaneous heart valve implantation, hybrid cardiac surgery, etc).
Most commonly performed percutaneous procedures in our institution are stated below:
Pulmonary and aortic valve stenosis balloon valvuloplasty
Coarctation of the aorta balloon angioplasty or stent implantation
Pulmonary artery stenosis balloon angioplasty or stent implantation in the pulmonary branches.
Percutaneous implantation of cardiac valves such as pulmonary valve or tricuspid valve in patients who had been operated for congenital heart disease, such as Tetralogy of Fallot
Atrial septal defect (ASD) or ventricular septal defect (VSD) closure with devices
Patent ductus arteriosus (PDA) closure with coils or Amplatzer PDA plugs
Balloon atrial septostomy for ASD creation in transposition of great arteries, pulmonary atresia, etc
Pulmonary valve perforation for membranous pulmonary atresia.
Stent implantation or fenestration closure in Fontan patients.
Stent implantation in the ductus arteriosus (PDA) to avoid surgical implantation of a Blalock-Tausig shunt
Hybrid interventions (catheterizations in conjunction with mini-surgical interventions (eg stent implantation in PDA in combination with surgical banding of branch pulmonary arteries in the setting of hypoplastic left heart syndrome).
Interventional cardiac catheterization procedures have become routine as an alternative method to open heart surgery – or even more preferable to surgery on selected occasions.
 THE VIDEOS ON THIS PAGE ARE FROM THE DOCTOR'S PERSONAL ARCHIVE