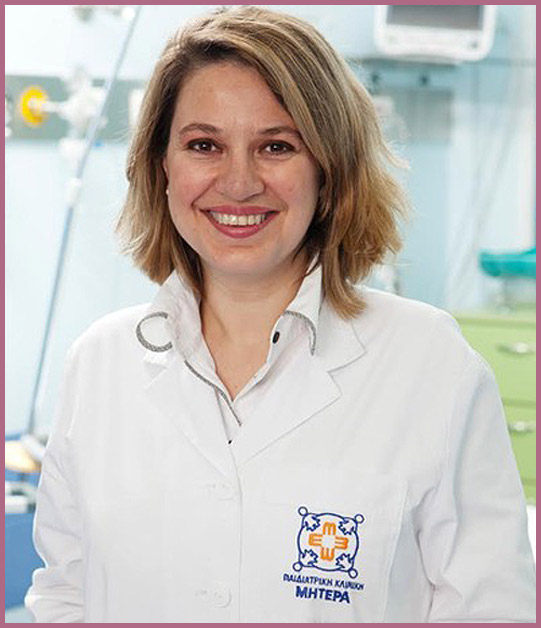 Doctor Tzifa is a fully trained Paediatric and Adult Congenital Heart Disease Cardiologist, subspecializing in congenital heart disease interventions and peri-interventional imaging.Doctor Aphrodite Tzifa studied Medicine at the University of Athens and moved to England in 1996, where she specialized in Pediatrics and subspecialized in Pediatric Cardiology and Adult Congenital Heart Disease. She has trained in interventional cardiology for congenital heart disease, as well as structural interventions for adults with cardiac shunts and valvular leaks. Beyond cardiac interventions, she has received training in cardiac MRI for congenital heart disease, cardiac arrhythmias, adult congenital heart disease and fetal Cardiology.
Read More
Advice




for

parents

and

adults

with congenital heart disease

Find answers on everything connected with the health of your kid's heart.
Read More
Interventional Cardiology for Congenital Heart Disease
Transcatheter interventions are performed to treat narrowed heart valves and vessels (pulmonary and aortic valvuloplasty for valvar aortic and pulmonary stenosis, aortic angioplasty or pulmonary artery balloon dilation). Atrial and ventricular septal defects (ASD / VSD), as well as patent ductus arteriosus (PDA) can also be dealt with this method by implanting devices to occlude the defects. In addition, stent implantation can be performed in narrowed large vessels, such as the pulmonary arteries or for coarctation of the aorta, or even in small vessels (for example the patent ductus arteriosus) that must remain open, thus avoiding surgical placement of a Blalock Taussig shunt. A most recent advancement of transcatheter interventions is valve-in-valve therapy, which can also be applied in congenital patients, eg. after surgical repair for Tetralogy of Fallot, where the pulmonary valve has to be replaced. In these cases, transcatheter implantation of pulmonary valve may be possible, avoiding a repeat open-heart operation. Nowadays it is also possible to perform hybrid cardiac interventions (interventional catheterization in conjunction with mini-surgery), in appropriately selected cases, where avoidance of going on bypass is imperative.
Transcatheter cardiac procedures are performed as an alternative method to cardiac surgery in all advanced paediatric cardiology and cardiac surgery centers worldwide. However, their successful completion requires access to specialist teams with the appropriate infrastructure and equipment, as well as close collaboration between the groups of doctors and technologists involved.
Management of Congenital Heart Disease
Paediatric Cardiology and Paediatric Cardiac Surgery are medical sub-specialties that have been developed in recent decades. Continued and rapid evolution of this specialist field, diagnostic access as well as new treatments for congenital heart disease have revolutionized the management of the patients.
Modern methods of investigation and treatment of congenital heart disease
 At the onset of management of congenital heart disease, echocardiography and cardiac catheterization procedures were the only way of patient imaging and establishing a diagnosis. Nowadays, diagnostic cardiac catheterizations are performed rarely, since advanced echocardiography and cardiac magnetic resonance imaging (MRI) have been developed to offer non-invasively accurate information about anatomy and physiology, avoiding any discomfort or radiation exposure to the petient. However, there are cases where, except for anatomy, it is also necessary to measure intracardiac pressures, ie when assessment of pulmonary hypertension is required. In this cases, a diagnostic cardiac catheterization can be performed jointly with an MRI procedure at the same time and with the same anaesthesia (hybrid MRI catheterisations). Interventional (therapeutic) catheterizations of congenital heart disease have been performed for over four decades with excellent outcomes as an alternative to open heart surgery, in appropriately selected cases. Transcatheter interventions are performed through large arteries and veins, most commonly through the patient's groin or neck vessels. Hospitalization and patient recovery is rapid, about 1-2 days (as compared to 5-10 days of hospital stay after open heart surgery). Interventional cardiac catheterization procedures are performed by specialist trained teams in highly specialized centers.