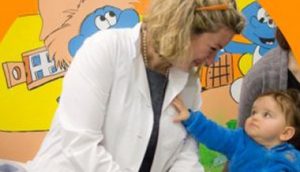 Our renowned team treats the full spectrum of cardiac disorders, including the rarest and most complex congenital heart defects at every age, from prenatal to adulthood.
Our patients come from all over Greece but also from neighbouring countries due to our high specialisation and performance outcomes.
Here are some characteristics of the team that bring us at the frontier of Paediatric Cardiology and Cardiac Surgery:
We are the only center in Greece performing cardiac MRI under general anaesthesia in small children and preterm babies
We are the only center in Greece providing an XMR service (combined cardiac catheterisation and cardiac MRI under the same anaesthesia)
We have a highly specialised interventional cardiology programme (Insertion of ASD/VSD devices, pulmonary artery, aortic and ductal stents, transcatheter insertion of heart valves, closure of paravalvular leaks and coronary fistulae, hybrid surgical procedures, transcatheter perforation of atretic valves)
We have a high volume devoted Fetal Service
We have paediatric subspecialties including all surgical subspecialties, obstetric, general medicine and its subspecialties and cardiac services under the same roof
Our cardiac surgeons are highly specialised and unique in performing all surgeries including Norwood, hybrid Hypoplastic Left Ventricle approach, Ross procedure and repair of valvar disease, even the most challenging ones, with short extracorporeal circulatory times and minimal blood loss
Our arrhythmia service covers all the spectrum of dysrhythmias and our electrophysiology laboratory is equipped with cryo-ablation equipment and the Navex system in order to treat patients with the least possible radiation and complications.
Pacemaker and ICD insertion and follow up
Transoesophageal echocardiography, including 3D imaging
Tilt Test for children
Continuous Medical Education including taking part in national registries, research programs and organising a postgraduate course in Paediatric Cardiology and Cardiac Surgery
Clinical Genetic approach of all syndromes including Long QT syndrome
Adult Congenital Disease programme
Specialised Cardiac Intensive Care service with fully trained Intensivists
All round the clock on call rota of Specialised Paediatric Cardiologists and Cardiac Surgeons
We hold an excellent Outpatient Department and Inpatient clinical set up, but also a high-tech catheterisation laboratory and fully equipped Intensive Care Units (NICU, PICU and Adult ICU).
In our Outpatient department we perform:
ECGs, rhythm strips
Echocardiograms, including 3D imaging, Tissue Doppler Imaging and contrast studies
Stress test and exercise MVO2
24 hrs ECG recordings, including 2-7 day, where necessary
Pacemaker and ICD check ups
Sports and preventative medicine
The inpatient department consists of a 15 paediatric cardiology bed ward with remote rhythm monitoring (high dependency unit standards) and 10 Paediatric ICU beds (including 4 cubicles with negative pressure for isolation). Our nursing staff is specialised in the care of patients with heart conditions and is very friendly and caring to the children and their families.